You know me and pictures. I take them of everything. I like to share them. I like to design gifts around them. It is no shock that I design my kids birthday invitations and our Christmas cards every year.
I've already started thinking about this years cards, but when I started working on them on
Shutterfly
I stumbled upon some of our past Christmas cards.
2007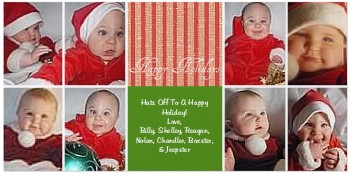 Heritage Holiday Christmas
2008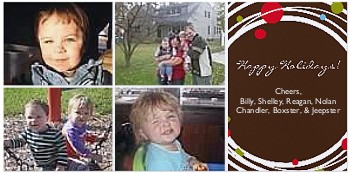 Where have those little babies gone?!
My current fave for this year; although I find a new one I like every time I go on the site:
http://www.shutterfly.com/cards-stationery/cards-stationery/retro-kaleidoscope-holiday-card-5x7-flat?sortType=1&storeNode=93479
I really like Shutterfly's HUGE variety of cards, reasonable prices (they always have some kind of special going on this time of year too), and a very easy site to navigate and design with.
I've already created several versions of our holiday card and calendars and mugs, and well you get my point.....this year, but no matter which one I go with it will have the shutterfly logo on the back.
If you are looking for a personalized gift, they've got it. No, they've got several to choose from so check them out:
· Christmas photo cards
www.shutterfly.com/cards-stationery/christmas-photo-cards
· Holiday invitations
www.shutterfly.com/cards-stationery/christmas-invitations
· Holiday photo cards
www.shutterfly.com/cards-stationery
· calendar
www.shutterfly.com/calendars
· address labels
www.shutterfly.com/cards-stationery/address-labels
· personalized mugs
www.shutterfly.com/photo-gifts/photo-mugs
For writing this post, I'm going to get 50 free cards (puts a nice dent in the 120 or so that we send) and you can too. All you have to do is go
here
, fill out the little form and then you'll get an email about how you can write a little blog and get free stuff.